Welcome and thank you for visiting!
Elemental Orientals is a small cattery located in Northwest Ohio that produces excellent quality Oriental Shorthair cats for show and companionship. Elemental Orientals is the effort of nearly a decade of selective breeding, competitive showing, and heart felt devotion by cattery founders Guy and Yvonne Credit.
The cattery comes from humble beginnings with just a single neutered male in 2007 who was shown to Grand Premier title in the Great Lakes Region. In 2008 they acquired their first stud and queen, the foundation for the cattery, and went on to achieve multiple Grand Champion and Regional Winner titles for the cattery over the years.
Today Guy and Yvonne still compete in Cat Fanciers Association (CFA) shows across the nation with their cats. When they are not at a cat show you can find them relaxing at their home which they share with both Oriental Shorthairs, an Oriental Longhair, and two retired show Poodles. They alsoenjoy going for motorcycle rides in the warm weather and spending time with their three grandchildren.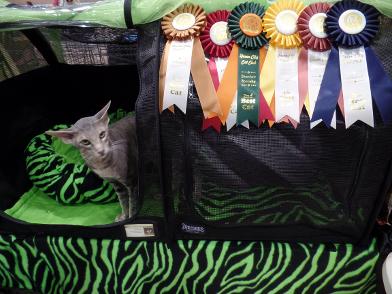 Show Stoppers
Never experienced a CFA cat show? Check out what it's like to go On the Road with Elemental Orientals as they share photos from cat shows across the country! Keep tabs on their Rising Stars and our Past Winners and be sure to visit them at a CFA show near you!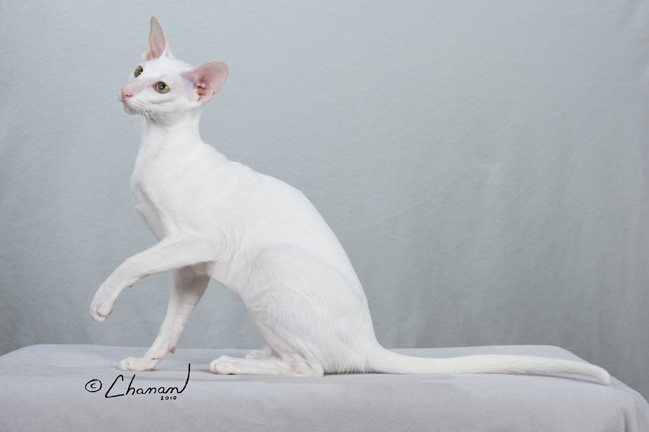 Like many others Elemental Oriental has known loss in its cattery. Each and every cat they have bred, raised, and shown has been a part of their family, beloved by both Guy and Yvonne. This page is dedicated to those cats who have passed on. May they never be forgotten.